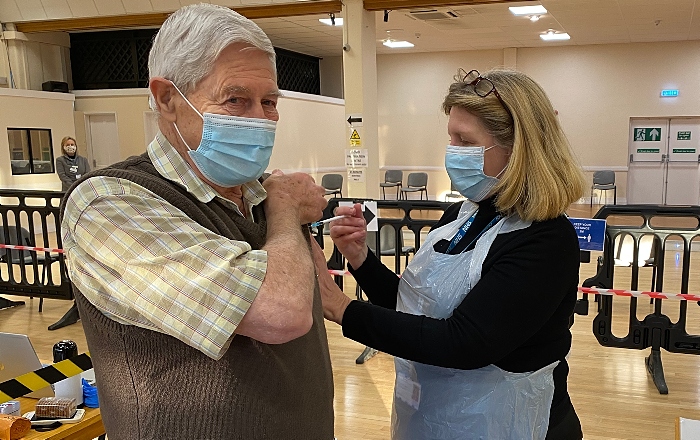 Meet Don Marshall – the first person to receive the Covid 19 vaccination in Nantwich!
Don, 86, from Hatherton, received his Pfizer vaccine today (January 7) and is the first patient within Nantwich and Rural Primary Care Network to do so.
Staff celebrated the landmark moment in the fight against coronavirus, as thousands more in the most vulnerable categories are now being invited in to have their vaccines over the coming days and weeks.
Nantwich and Rural Primary Care Network began their Covid 19 vaccination programme this morning at Nantwich Civic Hall.
They will be vaccinating patients, who all have pre-booked appointments, throughout Thursday and Friday.
The site will continue to host the ongoing programme.
Mr Marshall said: "We must all support the advisors and the NHS in their endeavour to beat this pandemic.
"I am, therefore delighted, to be receiving the vaccine today. Well done to all the researchers and staff."
Dr David Holden, Clinical Lead for Nantwich and Rural Primary Care Network said: "We have worked really hard to get this site ready to begin the Covid 19 Vaccination Programme and we are really delighted to be able to begin vaccinating patients in the Nantwich and Rural area."
Nantwich and Rural Primary Care Network is made up of the five local GP Practices – Audlem Medical Practice, Kiltearn Medical Centre, Nantwich Health Centre, Tudor Surgery and Wrenbury Medical Centre.
The NHS is prioritising the rollout of the COVID-19 vaccine.
When it is your time to receive your vaccine, you will receive an invitation to come forward.
Please do not contact the NHS or turn up at the site for an appointment until you are contacted.
To volunteer to help out in the local vaccination centre, visit:
www.goodsamapp.org/NHSvolunteerresponders