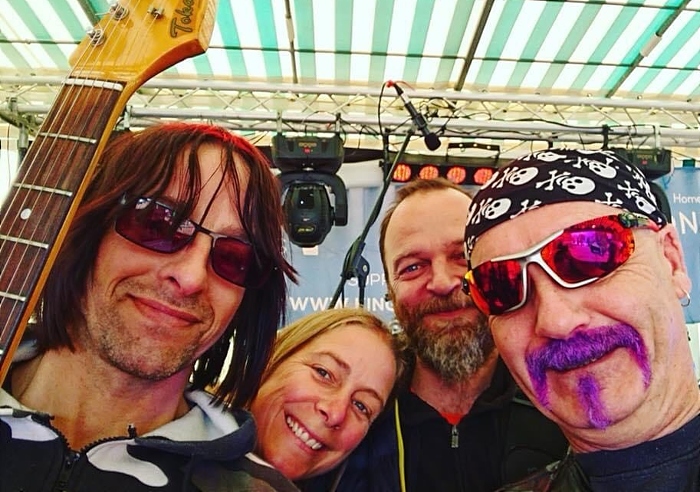 South Cheshire band The Blue Yellows are launching a new EP (extended play) record in 2021, writes Jonathan White.
The Blue Yellows play a range of music from folk to grunge and the band consists of Jonathan Tarplee (Guitar/Vocals), Emma Alcock (Keyboards/Accordion/Backing vocals), Simon Taylor (Bass), and Dave Coomer (Drums).
Their new four track EP 'A Minute in the Sun' is launched worldwide via Spotify, Apple Music, Amazon Music and all other streaming/download platforms from Friday February 19, 2021.
There will also be limited edition CDs available at live shows when performances at venues are allowed again.
The EP was produced by Manu Arteaga with cover photo by Pete Alcock and the graphic design by Emma Alcock.
The opening video-single of the EP, called 'Who Put Bella in the Wych Elm', is out on 5th February 2021 and features a video made by the band and friends on their phones, as they weren't able to meet in lockdown.
The video can be viewed at The Blue Yellows official YouTube channel: https://www.youtube.com/channel/UCfe4WWxSf1PfBjhnrUKI-vQ
The Blue Yellows formed in 2009 and have previously released two albums: 'All These Things Right Now' in 2012 and 'Kitchen Sessions' in 2019.
The bands influences are very varied from grunge, prog rock to the great singer songwriters.
The band got their name after overhearing a painter talking very passionately about music and colours.
The Blue Yellows have performed locally at the Nantwich Jazz, Blues & Music Festival, Words & Music Festival (Nantwich), Oxjam (Nantwich), Audlem Music and Arts Festival, and the Middlewich Folk and Boat Festival.
Nantwich musician Jonathan Tarplee said: "The Covid crisis has been a strange time for musicians as well as everyone else of course.
"It hasn't been safe for all of the band to meet up since March 2020, but we managed to pull off going into the studio, one by one in a Covid-secure environment to make our best recording yet, so it's really good to come out of a really grim time with something so positive."
For further information relating to The Blue Yellows visit Facebook https://www.facebook.com/blueyellows , Twitter https://twitter.com/TheBlueYellows , Instagram https://www.instagram.com/theblueyellows/ and http://www.blueyellows.co.uk/