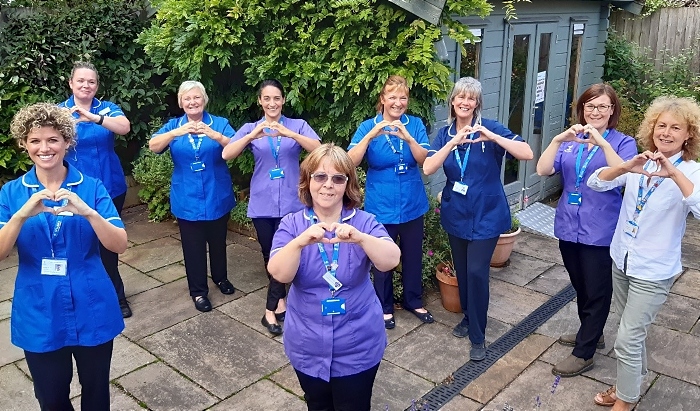 Nurses from St Luke's Day Hospice are moving services online to support even more people in Cheshire.
With face-to-face appointments cancelled by Covid, Day Hospice nurses and complementary therapists are offering support to patients from diagnosis who are living with a life limiting illness, through new virtual services.
Members of the community can self-refer for these services by contacting the Hospice directly, without the need to request a referral from their GP.
Clare Wolff, Day Hospice Services Manager for St Luke's, said: "In these difficult times we are keen to reach out and support as many people affected by life limiting conditions in the community as possible.
"Sadly we cannot meet with patients and their families face-to-face at the moment due to the lockdown restrictions.
"But we are able to do the next best thing by connecting with people either by telephone consultations or virtually to offer them advice, care and support in the safety of their own homes.
"Please get in touch if you think we can help you.
"We appreciate how isolating it can feel at the moment if you are at home trying to cope with a new diagnosis, going through treatment or living with a life limiting illness.
"If you are supporting a loved one with a life limiting condition then we can support you too, even if your loved one isn't accessing our hospice services.
"Simply give our nurses a call in Day Hospice for a chat and we can help you access the appropriate support."
Services on offer include a Virtual Wellbeing Group where patients can get help with symptom management, as well as access relaxation and exercise classes, and chat with other people who are going through similar experiences.
The Hospice's team of complementary therapists are also running Tripudio classes, which is a gentle exercise class suitable for patients and carers, as well as a Virtual Relaxation Group, Virtual Carers' Workshop and Virtual Carers' Drop In.
All these services are accessed online. Day Hospice staff will help patients and carers to access the virtual groups from their phones, tablets or computer.
To find out more about the various services visit www.slhospice.co.uk/how-we-can-help/dayhospice or call Day Hospice on 01606 555681.