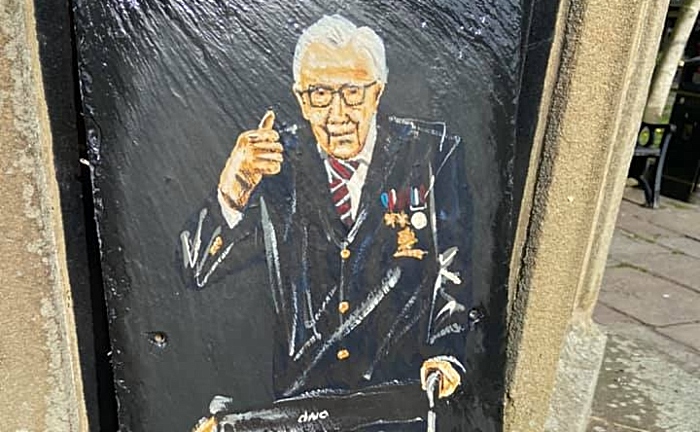 A painting of Captain Sir Tom Moore has been placed back on display in the shop window of Nantwich Bookshop & Coffee Lounge in his memory, writes Jonathan White.
The country has been paying tribute to Captain Moore following his death yesterday. He was being treated for pneumonia and had tested positive for coronavirus.
The 100-year-old Second World War veteran inspired the nation in lockdown by raising more than £30 million for the NHS by walking around his garden 100 times.
He had only set out to raise £1,000 initially.
He was credited with lifting the nation's spirits and his saying "Tomorrow will be a good day" trended on social media.
The painting of Captain Sir Tom Moore was produced by Nantwich artist Tony Denton last April.
It was originally placed next to the war memorial on Nantwich town square, then moved to the shop window of Nantwich Bookshop & Coffee Lounge to be safely displayed for all to enjoy.
The painting will eventually be moved permanently to Nantwich Museum.
Tony said: "He inspired so many people in such a sad time. RIP Captain Sir Tom – hero and a legend right to the end."
Christine Lawson, of the Nantwich Bookshop and Coffee Lounge, said: "It is with great sadness that we have learned of Sir Captain Tom Moore's passing away.
"In honour of his life and remarkable contribution to the NHS we have put Tony Denton's amazing slate painting of this remarkable gentleman back into the Bookshop window for everyone to view."
(Images courtesy of Jonathan White)