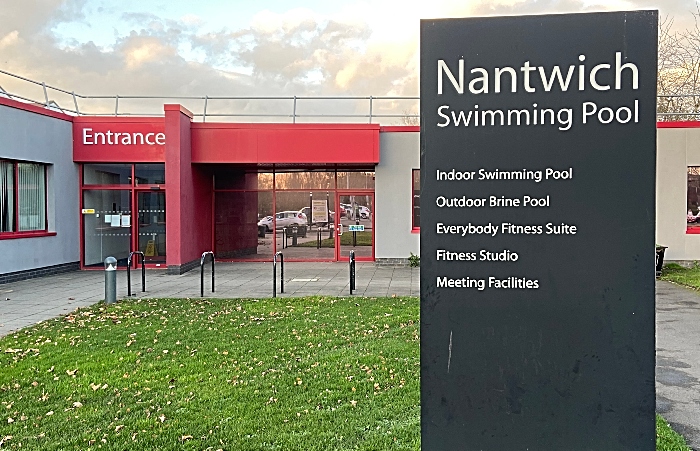 Updated plans have been unveiled to expand Nantwich Pool and leisure centre on Wall Lane.
The £1.7 million plans include a single storey extension to front right-hand side of building to extend existing gym.
And it will also see a two-storey extension to the central area at the front of the building to create a new feature entrance, refreshment area, and spin studio on first floor.
Initial plans were submitted in November, and have now been revised following consultation with updated reports submitted to Cheshire East on January 19.
Nantwich Town Council councillors tonight (February 4) backed the planning applications.
Cllr Arthur Moran said the £1.7 million development was "a welcome development" for the town.
The centre will remain open during construction, a report to Cheshire East Council says.
It adds: "The proposed development will result in the main entrance being moved forward, closer to the conservation area boundary, and with the central section being increased in height, to match the height of the existing indoor pool building.
"The structure will become more prominent from the focal points (eg. Nantwich Bridge) however it is considered that this will be mitigated through the higher quality design of the proposed extension."
In the plans, it details how the construction phase will be managed to avoid disruption.
It says: "The site access for deliveries will be via the B5341 Waterlode, Wall Lane and the existing car park with all deliveries being managed to avoid peak periods and to coordinate with the Leisure Centre.
"A Traffic Management Plan will be introduced to cover all vehicle movements complete with signage and a trained banksman to direct deliveries and control site manoeuvring. Measures will also be implemented to prevent mud being deposited within the car park and adjacent highway.
"The site compound will be located on the existing grassed area to the west of the Leisure Centre and will contain temporary office, welfare and storage accommodation.
"The perimeter will be secured with block and mesh fencing. A temporary stoned surface will be laid within the compound to reduce the transfer of mud onto the highway.
"The compound and stone will be removed and the area reinstated as grass upon completion of the construction works.
"To avoid any pollution of the River Weaver, the Construction Method Statement includes details of measures to prevent / control any spillages within the site compound.
"To allow the Leisure Centre to remain operational and ensure safe access for users a temporary entrance is to be formed on the east elevation from Wall Lane. This entrance will be retained as a fire exit upon completion of the works.
"The existing public car park will be used for parking and there will be no parking of contractors vehicles on Wall Lane."
You can view the full plans and statements on Cheshire East Council planning portal, here.