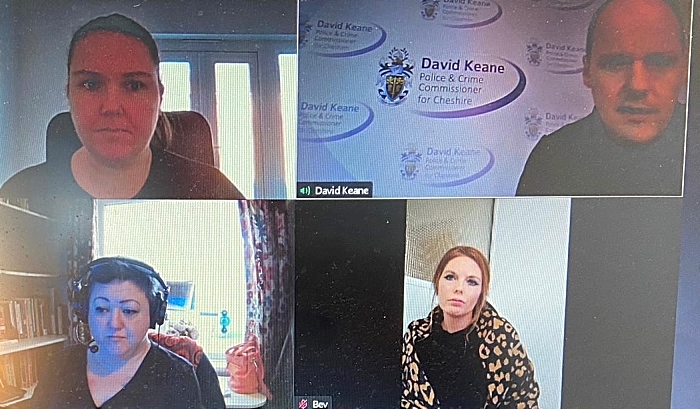 Cheshire's Police and crime commissioner has vowed to support victims of domestic abuse in the county after figures show cases have doubled since the start of the pandemic.
Statistics released by charity My CWA (Cheshire Without Abuse) revealed the number of victims it is supporting, including adults and children, has doubled from 200 pre-Covid to 400.
PCC David Keane met with the charity to see the impact the increased demand is having on the support they provide.
Also worrying is the severity of cases, with around 40% being deemed high risk, meaning there is serious risk of harm or death.
In the last quarter, there were two suicides and 13 attempts on life – with two of those coming in just the last week.
In April last year, Cheshire Police launched a campaign to encourage those suffering from domestic abuse to seek support during the Coronavirus crisis.
In November, Mr Keane secured Home Office funding for a scheme which works to try and change the behaviour of perpetrators to reduce further incidents of abuse.
He said: "There have been many tragedies throughout this pandemic and one has undoubtedly been the rise in domestic abuse.
"Domestic abuse can effect anyone in our communities, irrespective of their gender, age, sexual orientation or any other personal characteristic.
"Home should be a safe place, especially when it's where we're encouraged to stay in order to protect our health and that of our loved ones, family, friends and neighbours.
"But tragically for many people, home is not a safe place.
"We cannot, and must not, stand for this as a society.
"Working with partners, I am doing all I can to help ensure people in this situation get the help they need.
"I'd also like to encourage anyone who is suffering in this way to please get in touch with support services – they are there to help."
Depending on where they live, anyone who needs help or advice can contact their local domestic abuse support service on the relevant details below:
Cheshire East Domestic Abuse Hub – 0300 123 5101
Cheshire West and Chester: 0300 123 7047, option 2
Halton Domestic Abuse Forum: 0300 111 1247
Warrington Refuge – 01925 243359
They can also call Cheshire Police on 101 or the National Domestic Abuse Helpline on 0808 2000 247.
In an emergency, where there is a threat to life or a crime is taking place, call 999.
There's also advice and support available on https://www.openthedoorcheshire.org.uk/