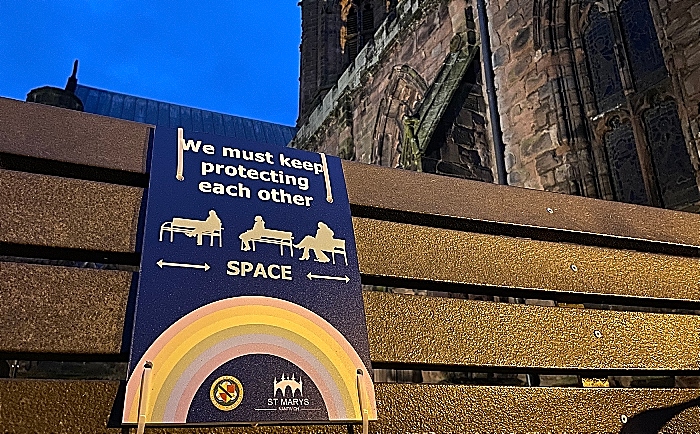 Nantwich Council staff were verbally abused as they installed 'social distancing' reminder signs on town centre benches, councillors were told.
Staff this week fixed the signage to many of the benches around the town square following concerns that too many people were breaching lockdown rules and gathering in groups.
The signage asking people to "protect each other" was agreed by councillors back in December, as a preferred action rather than remove or reduce the number of benches.
But on Thursday night, town council clear Samantha Roberts said: "The signs are now in place, but a couple of members of our staff did receive some verbal nasty comments when placing the signage there today.
"We're in a difficult position. Some members of the public say we should be more assertive in imposing social distancing, yet some seem offended that we are taking more assertive action.
"Our only other proposal would be to move benches, make them more spaced out, and remove some for repairs and to be repainted."
But Cllr Andrew Martin said the signage was the right thing to do.
"There has been a greater police presence but it is a difficult position.
"The signs should be sufficient and I'm content with this action."
Cllr Arthur Moran said it was "disappointing" that some members of the public were still not socially distancing.
"It's supposed to be a lockdown still. Someone I spoke to said they had been in the town square and said it was manic, far too many people and no social distancing going on."
Earlier in the meeting, PC Matt Stonier of Nantwich Police said: "We have not used any enforcement measures on the square, but we are providing more of a presence."
Councillors agreed unanimously to retain the signage placed on benches for the time being.
From this Monday March 8, recreation in outdoor public spaces will be allowed between two people, meaning they would be allowed to sit down for a coffee, drink or picnic.
For further information visit: https://www.gov.uk/guidance/national-lockdown-stay-at-home
(Images courtesy of Jonathan White)