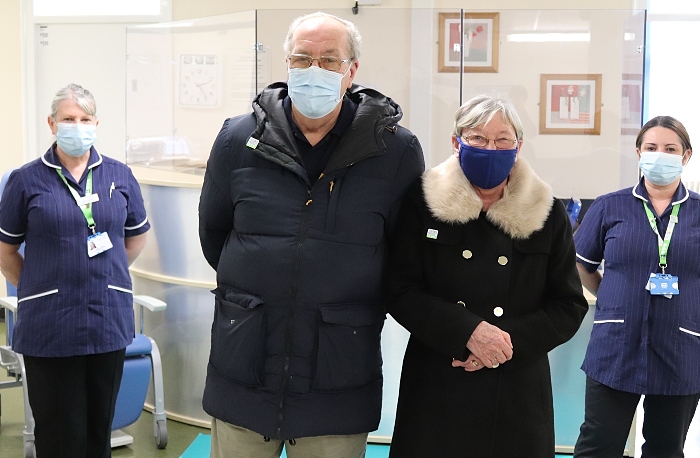 A married couple from Nantwich has thanked a specialist hospital team for helping them quit cigarettes – after more than 100 years of smoking between them!
Maureen Gooder, 69, started smoking at 19 and has spent the last 50 years, regularly smoking 17 cigarettes a day.
And her 73-year-old husband William has smoked from the age of 16 – besides an 18-month pause in his late 20s.
Now the Nantwich couple has kicked the habit after undertaking a new tobacco addiction treatment service at Leighton Hospital.
Maureen was introduced to the CURE team in January after being admitted to hospital with breathing difficulties.
The CURE Project offers all patients admitted to Leighton Hospital and who smoke a package of support.
This includes assessment of their addiction level, tailored nicotine replacement therapy and support from a team of specialist nurses during and after their time in hospital.
It was during four days on a ward while her breathing and blood pressure was monitored that Maureen was prescribed nicotine patches.
They were part of a 10-week programme to gradually reduce the strength of the patches to wean her off cigarettes.
She said: "I've tried to quit smoking many times before, but I'd last maybe one day or two days.
"I'd never really thought of buying the patches before, but they've really helped and the support from the team has been very good."
When Maureen returned home, William also decided to quit and was pleased when the CURE team offered to support him too.
He said: "For a long time I wanted to give it up and thought if I carried on smoking once Maureen had stopped it wasn't going to help her.
"I'm very flattered really that these CURE nurses have taken me on when I wasn't even a patient. I think that's marvellous.
"They couldn't do any more for us. They're there at the end of the phone if you can't cope with anything or need any help at all."
It's now been seven weeks since Maureen and William have touched a cigarette.
And the benefits they are seeing to both their health and finances are spurring them on to continue.
Maureen used to spend £70 every week on cigarettes, the equivalent of £3,640 a year.
Maureen added: "Thinking about the money I used to spend on cigarettes is my motivation to keep going. It was a lot."
She remembers the morning she "couldn't breathe" and had to call an ambulance.
"No one has said it was the cigarettes that caused it, but it was a very scary experience and I don't ever want to go through it again.
"For whatever reason you want to quit smoking, whether it's for your health, for financial reasons or you don't want the smell of it on your clothes, it's well worth it."
The CURE Project launched at Mid Cheshire Hospitals NHS Foundation Trust, which manages Leighton Hospital, in November 2020 and is currently supporting more than 150 smokers.
Dr Duncan Fullerton, Respiratory Consultant and Clinical Lead for the CURE Project at Mid Cheshire Hospitals, said: "Tobacco addiction is a chronic and relapsing disease which sadly often begins in childhood.
"The CURE Project is about hospital teams working together to tackle this disease and, as we have seen with Maureen and William, has already demonstrated what can be achieved when we offer dedicated support to every patient.
"There really is no greater step a smoker can take to improve their health than to stop smoking, and the benefits start almost immediately."
For more information about the CURE project visit www.thecureproject.co.uk or for stop smoking advice and support visit www.nhs.uk/smokefree.