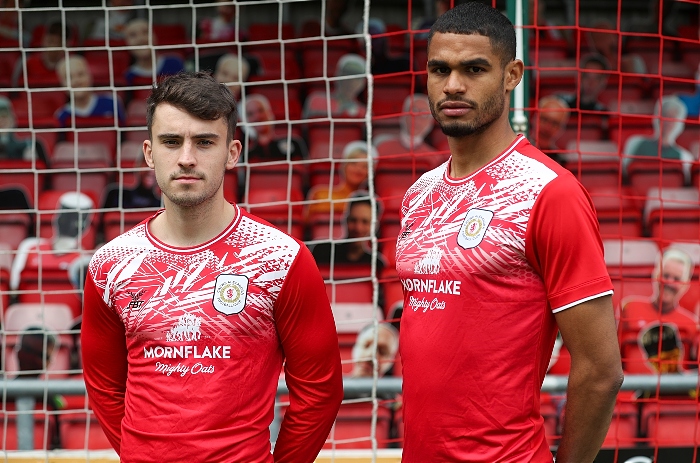 Crewe Alexandra chiefs have paid tribute to long-standing supporters Mornflake after netting another year of sponsorship from its historic neighbour.
Gresty Road-based Mornflake, millers of 'Mighty Oat' breakfast cereals, has marked its 16th year as Railwaymen shirt sponsors, underlining its commitment to the South Cheshire community.
Its support of the club, which kicked off for the 2005/6 season, remains one of the longest running partnerships in the English Football League.
Club chairman Charles Grant said: "Mornflake is our oldest sponsor and its support has meant a lot over the years and continues to do so.
"We appreciate its loyalty and dedication to Crewe Alexandra and the local community.
"Having gained promotion from Sky Bet League Two in the summer of 2020, Crewe secured a top half finish on their return to League One and is proud to step out in a new strip bearing Mornflake's branding this upcoming 2021/22 season."
The 2021-22 home shirts are modelled on the club website by first team players Luke Offord and Mika Mandron.
Paired with white shorts and red socks, the bespoke top bears the logo of principle partner Mornflake Mighty Oats as well as the club crest.
Mr Grant added: "Our partnership is more than just sponsorship, from the outset it has been about working together with supporters and communities.
"We are excited to be able to continue this partnership with Mornflake and we can only thank them for again extending their agreement with us.
"We look forward to building on our already successful relationship."
Mornflake remains one of Crewe's largest employers where 300 people work, and has operated its mill on Gresty Road since the war years.
Family-run Mornflake also helps fuel the legs of Alex players with breakfast products before training.
Managing director John Lea said: "Many Mornflake employees are loyal fans of the Alex.
"And like us, the club has a long history in Crewe and is part of a local heritage we look to support.
"We take great pride in this long partnership and seeing our name out on the pitch.
"We have stood by the club throughout highs and lows and wish it all the best for the next season."