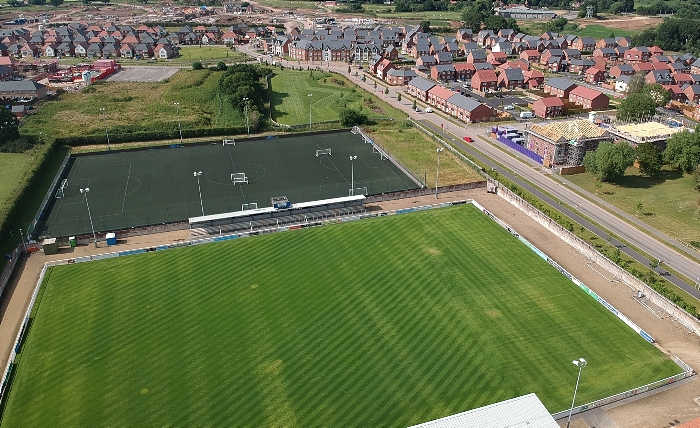 A proposal for a new "free" primary school in Nantwich has been unveiled by Cheshire East Council.
The school would be built as part of the new Kingsbourne housing development near Nantwich Town's stadium between Waterlode, the A51 at Reaseheath, and River Weaver.
The £3.5 million school, which could include a 30-place nursery, may be open as early as September 2024 and be run by a sponsor or sponsors.
Projections show increasing population in the town due to large housing development at Kingsbourne will leave a shortfall in primary places.
A Section 106 agreement – a condition attached to the 1,100-house development – includes funding contributions
from the housing developers of £2.27m to help fund the school.
The rest would come from a Basic Need government capital grant.
A report by Ged Rowney, Interim Director Children's Services, to be heard by the CEC Children and Families Committee on Monday (July 12), recommends that councillors approve a plan to open consultation with residents, other local schools, local councillors, town council and local MP.
It says current forecasts for years Reception to Year 6 between 2021 to 2025 show "an immediate shortage of primary school places in 2021 increasing year on year to indicate a shortfall of 65 places by 2025".
"These figures do include additional pupils anticipated from new housing in the area, including a proportion of pupils from the Kingsley Fields development.
"These figures do not include the desired 2% level of operational surplus, which is intended to facilitate admissions mid-year, some degree of parental choice and reasonable journey times to school."
Figures also show that many current primary schools in the Nantwich area will be over-subscribed by 2025, with only Nantwich Primary Academy, Millfields and St Anne's Catholic School able to take on additional pupils.
Expansion of these schools has been ruled out to due to location and site, the report adds.
"Nantwich is an area that has consistently experienced a number of "in year" applications from families moving into Cheshire East," the report outlines.
"Providing additional places at this new school will help ensure that local children, including cared for children, can be offered a place at their local school.
"We have had families moving in to the Nantwich area where we have been unable to offer a place at a local preference school and there has been only one school with a vacancy in the relevant year group or it has been difficult to accommodate siblings within the same school.
"As a result, some families have chosen to send their children to schools outside the immediate Nantwich area.
"An increase in capacity in the Nantwich area would provide more places for families moving into the area particularly outside the usual admissions rounds and reduce pressure on families in managing their child's journey to school and help them settle into their local community.
"The new school will provide the required places for the pupils from the development, limiting the impact on smaller rural schools and enabling such schools to retain their rural character and not have to expand."
The proposal is to create a Free school which would be run by potential sponsors, who would be approved by Government.
Free schools are funded by Government but are not run by the local authority, which means they have more control over how they do things.
Free schools can set their own pay and conditions for staff and change the length of school terms and the school day, and do not have to follow the national curriculum.
They can be run by a range of sponsors such as charities, universities, independent schools, community and faith groups, teachers, parents, or local businesses.
Read the full report to go before Cheshire East committee here.