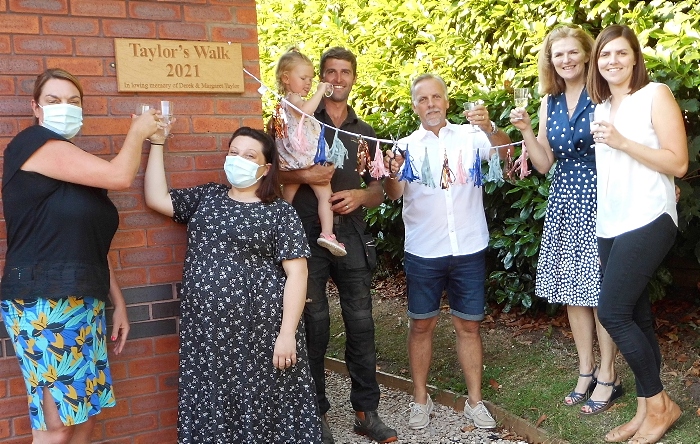 A care home in Nantwich has unveiled a new pathway thanks to a family of a couple staff cared for.
The pathway, known as "Taylor's Walk", is installed at St Catherine's Care Home on Barony Road.
A family behind the idea wanted to say thankyou to the home which cared for their parents – Derek and Margaret Taylor.
The couple moved in to St Catherine's just before Christmas 2019 as their physical health deteriorated.
Derek died in February 2020 and Margaret was able to attend Derek's funeral just before lockdown.
She then had to refrain from seeing her family during Covid lockdown apart from "window visits when they were introduced.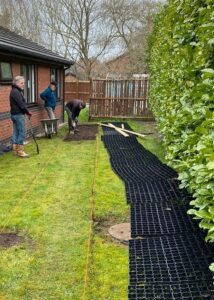 In December 2020, Margaret contracted Covid-19 and after a short battle she also passed away.
The family was so happy with the care they received in their final months, and came up with the idea of a path to provide safe and easier walking and wheelchair access to the back garden.
A Just Giving page smashed their initial £500 target and they raised enough for the couple's grandson-in-law, who has his own gardening and landscaping business, to lay the path.
In memory of Mr and Mrs Taylor, the path has been named 'Taylors Walk'.
An opening ceremony was recently held and family members were invited along.
Keeley Hackney, Manager at St Catherine's Care Home, said: "Everyone at St Catherine's was delighted with the thoughtful, selfless and generous idea from the family.
"We are amazed at how wonderful the finished walkway is, which will benefit families for years to come.
"It is a fitting, lasting memorial to their mum and dad, Margaret and Derek Taylor."
The couple's family said: "Margaret and Derek Taylor were pillars of the Nantwich community for many years so it was natural that after their passing, we as a family would want to do something in their memory.
"The pandemic impacted how we were able to spend time with them and say our final goodbyes so it felt right to do something to help the home make window visits more accessible for the families of relatives living at St Catherine's in memory of Margaret and Derek.
"And so, Taylor's Walk was born.
"We are so proud to see it in use already and to have been able to do something for St Catherine's, who became a second family to them during their time there, while making sure the memory of such a wonderful couple lives on."