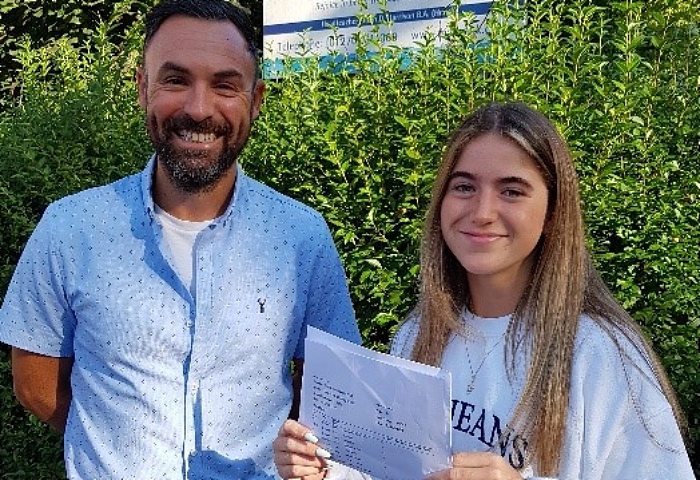 GCSE students at Malbank School in Nantwich are celebrating a set of "outstanding results".
And it comes on the back of celebrations of A level students on Tuesday.
Malbank headteacher John Harrison said he was "delighted to see the waves of happy smiling faces after a tough two years for the students".
He added: "They have been through a very difficult period, dealt with so much uncertainty and shown some real grit and determination to get where they are after coping with lockdown learning during their two GCSE years.
"We are so proud of how hard they worked and days like today make all that effort worthwhile, once again proving that positivity and perseverance can overcome anything."
Comparison with other years is difficult as staff were asked to evaluate pupil performance and decide on teacher assessed grades or "TAGs".
But it was another year of improvement in key benchmarks at the school.
Among the results were students who achieved outstanding grades.
Harry Edwards collected four grade 9s and five grade 8s, Ellie Horsley achieved seven grade 9s alongside a grade 8 and 7, Emily Quach picked up three 9s, three 8s, two 7s and a BTEC Distinction star.
Sophie Emerson and Archie Lea picked up six grade 9s and Lauren Heath achieved five 9s alongside a collection of other impressive scores.
Many have registered to continue A level study at the Welsh Row school.
Malbank Head of Sixth Form Stacey Falamarzi said: "We have already seen the biggest turn out for sign up for a very long time today which is exciting but not surprising given the quality of the results achieved.
"We really look forward to working with the large numbers of Malbank students staying on from year 11 and those from other schools, many of whom have been in touch already today to confirm their places."
Any student wishing to enquire about a place at the sixth form can contact the team on [email protected] or via Twitter on @Malbank6thform
(Pic above – John Harrison with pupil Ellie Horsley)