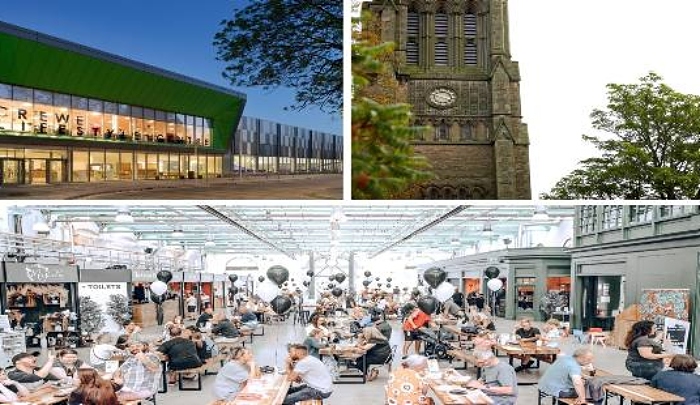 More detailed plans for regeneration Crewe town centre have been unveiled.
It includes major housing developing in the heart of the town, a new public open space for cultural events, and new pedestrian links and cycleways.
The package of projects announced by Cheshire East Council will be funded by the £14.1 million received from the Government's Future High Streets Fund.
Crewe also recently secured a 'Town Deal' and separate funding from government of £22.9m, which is allocated for additional projects.
Peter Skates, Cheshire East Council's director of growth and enterprise, said: "Our successful bid to the Future High Streets Fund shows there is confidence in our vision for the town and surrounding area.
"It means we can begin to deliver on our plans – ensuring that residents and businesses continue to see real progress and that Crewe is a place where people want to live, work, socialise and do business."
One project is to build more than 90 affordable and quality homes for young people, families, and the elderly, which would give residents easy access to services – reducing their carbon footprint.
Nearby there will be a new public space for cultural and civic activities.
Christ Church will be converted into a new technology and digital focused co-working space, in a bid to attract more economic activity into the town centre.
Plans for a sustainable energy network, powered by an air source heat pump at a new energy centre attached to the Lifestyle Centre, are going ahead.
There will be a new off-road pedestrian link/cycle path linking Oak Street and Forge Street, via High Street.
It will improve access into the town centre and to key facilities and create a more attractive route for pedestrians and cyclists.
The "Flag Lane link" will improve access for vehicles travelling between the east and west of the town centre, connecting Dunwoody Way to Delamere Street, via Flag Lane.
Some of the funding is also earmarked for new state-of-the-art junction controls in the Wistaston Road, Edleston Road and Nantwich Road areas.
This includes improvements to the junction of Nantwich Road and South Street.
And there is funding for development options to address congestion and improve cycling facilities between Memorial Square and Grand Junction Retail Park.
Mr Skates added: "We believe these projects will tackle key challenges in the town and will be a catalyst for further growth and regeneration.
"We look forward to continuing work with our partners to develop opportunities as they arise."
All projects are expected to be delivered by the end of 2024 and more details will be shared as they progress.