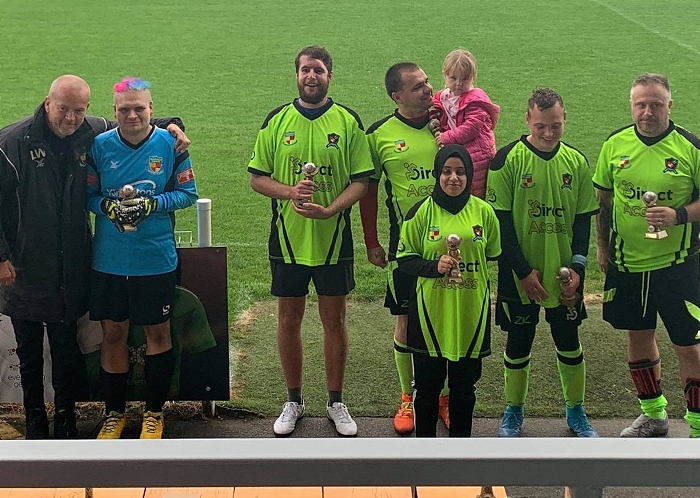 Nantwich Town Wolves VIFC are introducing weekly pan disability football training sessions for under 16s from Sunday August 29, writes Jonathan White.
The sessions from 4pm will take place on the Applewood Independent 3G Arena astro-turf pitches.
Nantwich Town Wolves VIFC already offer free pan-disability football training sessions for over 16s every Friday (7-8pm).
The team also held a football tournament at Nantwich Town FC on Saturday (August 21).
The event featured two Nantwich Town Wolves VIFC 5-a-side teams and two Nantwich Town Pan Disability 5-a-side teams in a round robin tournament.
Nantwich Town Wolves B beat Nantwich Town Wolves A 2-1 in a tightly contested final, with Mike Rosser scoring the winning goal.
Nantwich Town Wolves B, the winning team, consisted of Goalkeeper: Ryan Hickson, Defence: Mike Rosser, Maaria Hafiz, Owain Jones, and Strikers: Craig Acton (captain), Lewis Kurucz.
Lyndon Wain, Community Development Manager at Nantwich Town FC, presented the trophies to the winners and runners-up in front of The Swansway Stand (pictured, above)
The tournament was sponsored by Dabbers Sweet Shop (3 The Crown Mews, Nantwich CW5 5AU).
Nantwich Town Wolves VIFC is run by Craig Acton and Keir Welch and sponsored by local disability company Direct Access
Craig said: "I am so proud of all the pan disability players and visually impaired players – every single one of them played amazing football and should be proud of themselves.
"The day was a huge success, and I would like to thank Lyndon Wain from Nantwich Town FC for helping to make the day possible and a huge success.
"When it comes to football, disability doesn't mean lack of ability.
"Hopefully, it will broaden people's minds to the things that 'disabled' people can do.
"I am proud to be a part of Nantwich Town FC with Wolves, the Pan Disability team and now the up and coming Nantwich Town Cubs U16s."
For further information relating to Nantwich Town Wolves Visually Impaired Football Club and Nantwich Town Pan Disability (over 16s & under 16s), phone Craig Acton on 07791214269 or visit their Facebook page.
(Pics courtesy of Jonathan White)