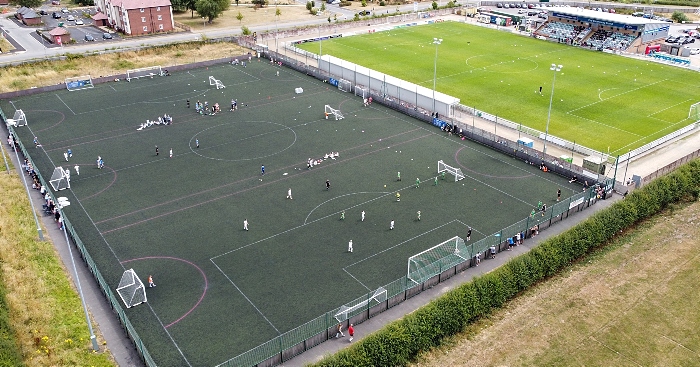 Nantwich Town Disability Football are hosting a PAN disability football tournament at Nantwich Town FC on August 13, writes Jonathan White.
The tournament will showcase local disability football and will be followed by an exhibition game of visually impaired players versus sighted players.
The 10 teams in the tournament will include four teams from Nantwich (two PAN-disability teams and two visually-impaired teams) and six teams that have been invited by organisers.
The winning team will receive trophies and the title of NTDF/Direct Access Disability Cup champions, the runners-up will receive second-place trophy.
There will be a player of the tournament trophy, and medals for the winners and runners up of a 'plate final' for the two teams that finish bottom of their group.
Craig Acton, Nantwich Town Disability Football, said: "I am looking forward to playing in the showcase tournament and helping show people how far disability football has come at Nantwich Town over the last few years.
"We also aim to show that having a disability doesn't mean a lack of ability.
"We look forward to seeing as many spectators as possible and look forward to giving an education in the exhibition match after the tournament."
NTDF runs three different teams at Nantwich Town FC – Nantwich Town Cubs, Nantwich Town PAN, and Nantwich Town Wolves.
Nantwich Town Cubs (under 16s) have coaching session every Sunday (4-5pm).
The session is aimed at under 16s male or female with any form of physical or mental disability.
Nantwich Town PAN (adult pan-disability team) have coaching sessions every Friday (7-8pm).
The session is aimed at any person male or female aged 16 or over, who has any form of disability physical or mental.
The session is for any level of footballing ability and are for those who want to improve their footballing skills and want to compete in an Ability Counts Football League.
Nantwich Town Wolves (visually impaired) meet every Friday (7-8pm).
This is a visually impaired specific team that plays in the national Partially Sighted Football League and are a competitive team with players of mixed abilities.
They welcome any players male or female over the age of 16 with a registered eye condition.
All teams are sponsored by local disability company Direct Access
For further information relating to Nantwich Town Disability Football, phone Craig Acton: 07791214269, email [email protected]