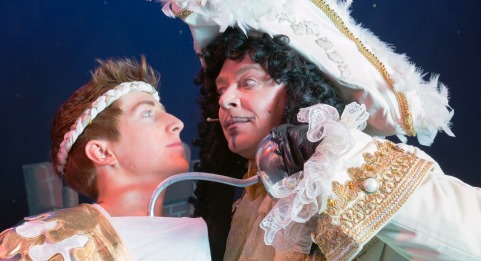 By Claire Faulkner
There is always something special about watching a pantomine.
And the opening night of "Peter Pan" at The Crewe Lyceum didn't disappoint the packed audience there.
The show has everything a traditional panto should have, including the magic, the comedy, laughter and of course the audience participation.
The cast looked like they had a great time too.
The audience welcomed young Nantwich actor George Knapper onto the stage with cheers.
The former Malbank School and Sixth Form College pupil played 'Peter' with boundless energy.
A star in the making and I'm sure we will see and hear more from him in the future.
Eve Crawford played 'Wendy' and Ceris Hine as 'Tinkerbell' both gave delightful and charming performances.
Adam Woodyatt, better known for his role as 'Ian' in Eastenders, played the baddy 'Captain Hook' as a suitably dislikable villain, the audience loved him.
Yes, we did boo and hiss at him, but its panto and he encouraged us.
The real stars of the show were Robin Colvill and Peter Piper as the pirates 'Starkey' and 'Smee'. They were simply wonderful.
I think they had the entire audience in hysterics at numerous times in the show.
Well done guys, I hope you come back to The Lyceum again soon.
Full of family fun and entertainment, 'Peter Pan' is traditional panto and just what you need this Christmas. A 5-star performance.
The show runs until January 5.
For ticket availability and times, visit www.crewelyceum.co.uk
(pics by Wes Webster Photography)