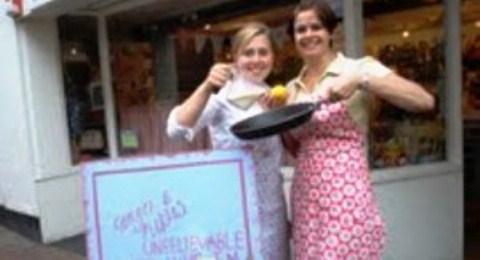 Local traders are offering plenty to enjoy at this weekend's Nantwich Food and Drink Festival.
Staff at Ginger & Pickles on Mill Street are hoping to give a big cash boost to charity with a pancake-tossing tournament.
The tea shop is hosting a contest throughout the weekend, when visitors can try their hand at tossing pancakes after making a £1 donation to the Stroke Association.
Delicious prizes will be on offer to winners who perform the most flips in 30 seconds. Tea tasting and delicious crepes will be on offer.
Multi award-winning Residence, also on Mill Street, is causing a stir with its special line-up of festival events.
The venue is staging a cocktail-making masterclass when its skilled bartenders will demonstrate the basics of preparing drinks.
If bubbly is more your style, they will be staging a champagne-tasting event where you can learn about the sophisticated tipple.
The free event is staged in conjunction with Rodney Densem Wines.
There's also spirit-tasting, hosted with Luscious Liquid, when you can try a range of spirits from premium Vodka to Italian Limoncello liquer.
Relish on Church Lane will be giving the humble sandwich a delicious make-over as part of a special event.
Staff at the deli and coffee shop will be competing against each other in a contest to come up with the Relish Signature Sandwich.
A team of judges, including food festival directors, will have the tasty job of selecting a winner.
The sandwich will then be added to the Relish menu.