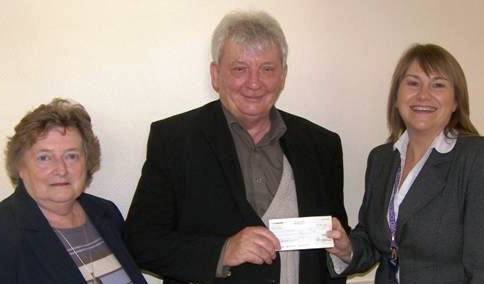 Nantwich patients are to benefit from new bowel cancer equipment, thanks to a donation to Leighton Hospital.
Dane Lodge in Middlewich has raised  money for the hospital after members benefitted from treatment there.
Benjamin Nuttall, of the Lodge's social committee, said: "Several members of our Lodge, including myself, have received treatment at the hospital, and we just wanted to give something back as a thank you.
"We all received wonderful care, so it seemed appropriate for us to do something to help future patients receive the same."
Mr Nuttall arranged a charity lunch in October where £375 was raised.
This included a contribution fellow committee member Bill Smallwood.
Heather Hughes, colorectal nurse at Mid Cheshire Hospitals NHS Foundation Trust, said: "The money will go towards new bowel cancer equipment, helping us to further improve the quality of care that we offer our patients."
Pictured: Christine and Benjamin Nuttall present a cheque on behalf of Dane Lodge Social Committee to Heather Hughes, Colorectal Nurse.