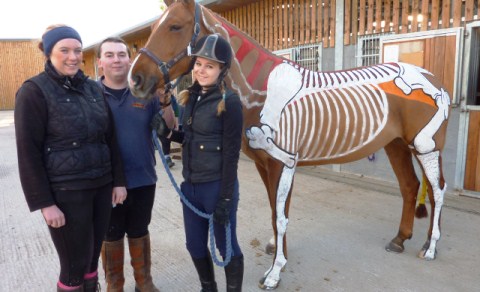 Reaseheath College equine students got down to the bare bones of the horse's skeleton thanks to a pot of paint and a bit of expert help.
Gillian Higgins, of 'Horses Inside Out', showed how the horse's body dictates its movement by drawing bones, muscles and tendons in luminous, washable paint on chestnut mare Montana and showjumper Bing.
Montana and Bing were then displayed in front of a packed public audience aimed at educating riders, trainers and therapists into how they can improve performance and reduce the risk of injury.
Gillian, who has won a business award for innovation and written books, said: "When riders understand the anatomy, they can manage their horses more sympathetically and train more effectively and sensitively.
"Before exercise, human athletes prepare their bodies with suppling and stretching exercises. This minimises the risk of pulled muscles and ligaments. It is the same with the horse."
International animal behavioural scientist Dr Andrew McLean also gave a talk and demonstration.
Dr McLean specialises in the theory of equine learning and how this can be applied to training.
He lectures at an international level and his methods are adopted by Olympic teams.
Equine curriculum leader Caroline Booth said: "We are gaining a real name for ourselves for putting on events which appeal to both serious and leisure riders. Feedback has been excellent, both for the speakers and the facilities."