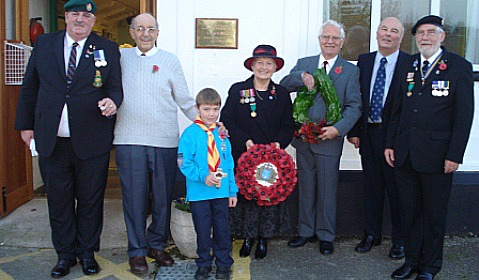 More than 170 people attended the Service of Remembrance at Wistaston Memorial Hall.
Residents, parish councillors, members of the Royal British Legion, Beavers, Cubs, Scouts and Explorers from the Wistaston 35th SWC Scout Group all turned out in force.
Girl Guides from Wells Green Church attended for the first time in years.
The poppy display was arranged by Olive Williams, and music provided by Myra Wood and members of the Wells Green Church Choir.
The service was led by Rev Mike Turnbull and Rev Ken Sambrook (St Mary's Church, Wistaston) and Rev Martin Moran (Oblate Retreat Centre).
The names of the 16 men from Wistaston killed in battle was read by Barbara Brereton.
A special tribute was paid to Acting Sub Lieutenant Thomas Eric Richards, of Rope Lane, Wells Green, who died in the Second World War in December 1941.
He was just 20 when his plane – Fairey Albacore – crashed into the sea following a bombing raid on Derna Airport in north Africa.
The collection raised £230.50 for The Royal British Legion.
Wreaths were placed by John Cooke  and Barbara Brereton, and a memorial cross was placed by one of the Beavers, James.
Hall chairman John White said: "This proved to be a most appropriate and popular gathering, attended by so many people that every chair in the Hall was in use.
"These men gave their lives for our freedom and we must never forget them."
PIC (l-r): Bob Cowan (Royal British Legion) – Brian Edge (Vice Chairman, Hall's committee with grandson George) – Barbara Brereton (who read of names of Wistaston's sixteen hero's) – John Cooke (Hall's President) – John White (Hall's Chairman) – Alan Brereton (Royal British Legion)
(Pic by Christopher White)