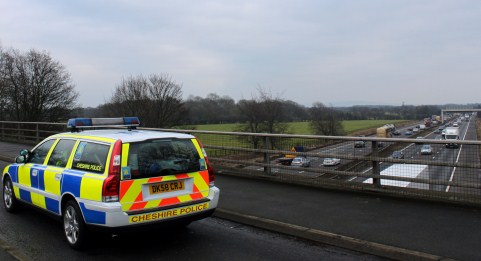 Police officers have issued a winter "slow down" warning to motorway drivers in South Cheshire.
A two-hour speed check on the M6 near junction 16 for Nantwich and Crewe caught 250 drivers travelling well over 70mph. The fastest was clocked at 107mph.
Officers at the Cheshire Police Motorway unit say drivers are putting lives at risk, particularly in darker, winter conditions.
"These were not people who just drifted over the limit," said Insp Liz Cunningham, head of the unit.
"They'd all made a decision to ignore the rules and drive at a much faster speed.
"Travelling at high speeds, they are allowing less time to react and to deal with changing traffic situations. As speed increases this drastically affects the severity of any loss of control and of any injury if a collision occurs.
"A collision at speed is more likely to involve several vehicles."
Last month, Britain experienced one of the worst motorway tragedies for decades in a 50-vehicle pile-up on the M5, which killed seven and seriously injured dozens more.
"During winter months, road surfaces are more likely to be wet and flying spray is hazard. There may be patches of ice," added Insp Cunningham.
"You are more likely to be driving in the dark and you may run into patches of mist or fog. You need to stay aware of the conditions and reduce your speed to allow for them."
Drivers are advised to leave at least a two second gap between their vehicle and the one in front, which will reduce the risk of collisions.
"The drivers who were caught speeding during this check between junctions 16 and 17, will be hearing from us."