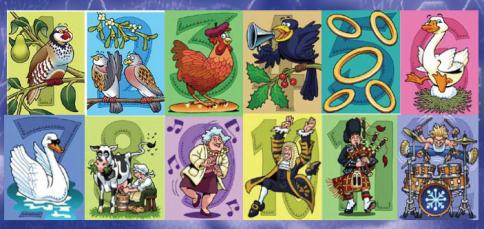 A fun "12 Days of Christmas" hunt has been launched by Nantwich traders, with more than £3,700 of prizes up for grabs.
Visitors to the town centre will be on the look out for the images (pictured here) depicting each of the "12 days", scattered among around 60 stores taking part.
The competition has been launched in conjunction with the new Sunday Trade campaign which aims to boost the numbers of shoppers in the town on Sundays.
Entry forms for the "12 Days of Christmas"  competition will be available from all participating stores.
All you have to do is go hunting in Nantwich stores, find the "12 days of Christmas" pictures, and write the name of the shop next to the corresponding day of Christmas on the entry form.
Around £3,700 worth of prizes and gift vouchers are up for grabs.
Entries need to be in by 11am on December 22. Forms can be handed in to Nantwich Bookshop or Ginger & Pickles.
The draw for the winners will take place at midday on December 22 in the bookshop.
The following stores are taking part:
BusyIT, Enzo, La Maison, PRJones Jewellers, Thorntons Hallmark Cards, Ubuhle on High Street.
Inside Paradies, Johnsons Printers and Brampton The Pie Shop on Oatmarket.
Bratts, Clewlows, Garlands Florist, Grapevine, Reflections Hallmark, Harvest Interiors, Moshulu, Pockets, Seabreeze Fish Shop on Pepper Street.
Mia Stanza, Escape, Haysteads Butchers, Spexmad Opticians, Talbots Shoes on Beam Street.
Atigno, A T Welch's, Bizzy Bods, Brookshaw's, Cafe De Paris, Foundations, Jepsons, Magpie Gifts, Paper Place, Secara, The Gourmet Cook Shop, Seriously Gifted on Hospital Street.
Gas Flame Centre, Jeffersons Menswear, Nantwich Museum, Pickwicks, Rodney Densem Wines, STR Menswear, Something Pretty, Dressing Room on Pillory Street.
Firenze, Jacksons Opticians, Red Melon, Essence, Skinhealth Spa, TV Centre, The Cheshire Cat, Mia Stanza Bedrooms on Welsh Row.
Ginger & Pickles, Homemade on Mill Street.
Magpie Cards on the Cocoa Yard.
All retailers in Nantwich Indoor Market are also involved.