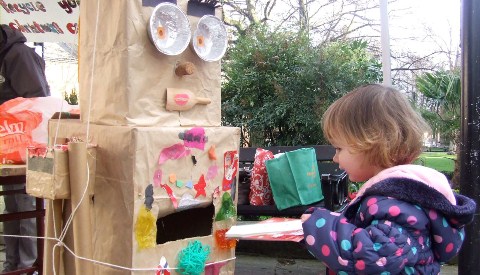 Nantwich Town Council's gazebo was inundated with Christmas cards during a weekend recycling event on the town square.
Robo-recycler was chomping cards as fast as he could as scores of youngsters like two-year-old Bebe Egerton (pictured) fed him old festive cards.
And a Cheshire East Council silver bin was also on standby to provide him with a breather every now and again.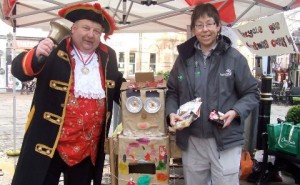 The robot was built by youngsters during workshops at Nantwich Museum. Standing over a metre high, he delighted the children as they stepped up to feed him their cards.
Recycling officers were also on hand to run gift box making sessions as part of the event, and town crier was enticing in visitors to find out more.
The town council organised the recycling initiative to coincide with the twelfth night after Christmas (January 5) – the traditional day to take down decorations.
Next Saturday January 14, the RSPB will be on the square promoting the Big Garden Birdwatch which takes place on January 28-29.
Thousands of people across the country take part in the biggest bird survey in the world by watching birds in their gardens or a park for one hour and making a list of how many they see.
This provides the RSPB with vital information about which birds are surviving well and which are becoming less common.
Next Saturday's RSPB event runs from 10am to 4pm, and there will be information available on how to prepare for the Big Garden Birdwatch.
Visit www.rspb.org.uk/birdwatch for more information.