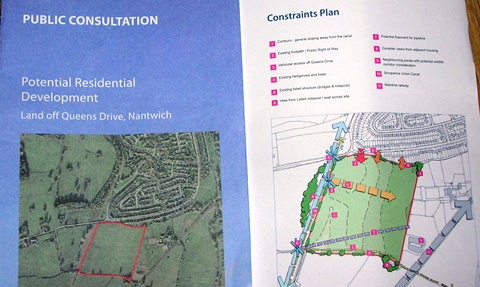 Angry residents in Nantwich hit out at plans to build 270 more homes on a greenfield site.
Hundreds of homes have had leaflets delivered from Gladman Developments Ltd, who hope to build the houses on land off Queens Drive.
The leaflet shows maps detailing how the development would be bordered by Queens Drive to the north, the Shropshire Union Canal to the west, and a public right of way to the south.
The mainline railway is close by to the east of the site.
One resident, Edith Williams, told Nantwich Town Council the plans were "absolutely ridiculous".
"Anyone who lives down Queens Drive knows it's a nightmare to get in and out with the traffic," she told the council meeting last night (January 16).
"Another 270 homes would make it even more difficult. I hope the council is going to object very strongly over this."
Cllr Stuart Hutton said the council was taking all the new housing development plans around the town "very seriously" and urged residents to respond during public consultation periods.
Cllr Andrew Martin added: "This is the third proposed major development after the Reaseheath and Stapeley ones.
"As a council we must consider very carefully whether we as a town have the infrastructure in place  to sustain these sorts of developments."
Congleton-based Gladman say the scheme would provide 83 "affordable homes" under the new criteria that Cheshire East Council has to follow.
Developers are also in discussion with local schools, highways officers, Environment Agency, Natural England and affordable housing providers over the scheme.
Public consultation ends on January 27.