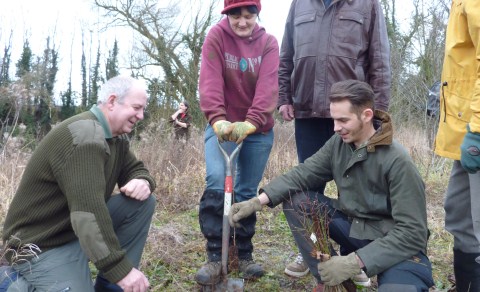 Hundreds of young trees were planted on a new rural corridor linking Crewe and Nantwich to commemorate the Queen's Diamond Jubilee.
The trees, donated by The Rotary Club of Crewe and Nantwich Weaver, were planted by Reaseheath College students on the Crewe-Nantwich Greenway near the A530 Middlewich Road.
It's hoped the mix of native species, including hawthorn, blackthorn, field maple, birch and oak, will grow into a wood to benefit the community and its wildlife for years to come.
The Rotary acquired the trees in a Community Tree Pack from the Woodland Trust. The packs are being given away as part of its Jubilee Woods project to mark the Jubilee.
They plan to plant a Royal Oak sapling, grown from an acorn on the Royal estate, in Church Square, Nantwich town centre.
And the Rotary wants the tree planting to commemorate a second significant event – the Great Fire of Nantwich in 1583 – when Queen Elizabeth 1 played a major part in rebuilding the town.
Neil Brown, of the Rotary Club, said: "There's a great royal tradition in the area and we hope the trees we plant will last hundreds of years."
The trees have been planted on land owned by Cheshire East Council near the Rising Sun pub, which is part of the Greenway linking Nantwich's riverside walks with Crewe's historic Queen's Park.
The tree planting is being supported by the Wistaston Parish Council and by Wistaston Conservation Group, who are responsible for adjoining public land and take a proactive interest in conserving and establishing woodland and other areas for wildlife.
Final year Reaseheath College student Megan Poole, 28, said: "It's been great knowing if we come back in 20 years we'll find a woodland community benefitting both the wildlife and the local community."