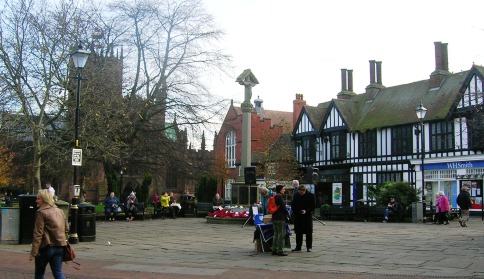 Nantwich is planning to join in "The Big Lunch" Diamond Jubilee celebrations by staging a major event in the town on June 3.
Councillors unveiled early plans to stage a Jubilee Civic Service and Parade in and around the town square and St Mary's Church.
They hope to stage the parade down Pepper Street leading to the church where a service will take place in the morning.
Then in the afternoon, there are plans to set up stalls around the town square, hold family picnics on the church lawns, and have performers from companies like Young Voices, X Academy and Nantwich Town Band.
Cllr Christine Farrall said The Cat Radio is willing to supply music and there will be rock 'n roll and fancy dress competitions.
She said they hoped to encourage groups like Nantwich Players to perform as well.
Cllr Farrall said: "These plans are all in their early stages, so nothing is confirmed yet.
"Rev Peter Chantry has been very helpful and has given permission for picnics on church grounds and for the use of the church and the hall in case it rains.
"We also want local traders and shops to run a 'best dressed window' competition, and schools are going to be approached to involve youngsters in making things like bunting."
She said Nantwich in Bloom will also be involved, providing a red, white and blue beacon in flower form in the main bed in the square which will be lit up.
There are also plans to continue the celebrations in the evening with a live concert at The Railway Hotel and a marquee.
Donations have already been pledged by the Rotary Club and Cheshire East Council.
Councillors are hoping to attract volunteers to help organise the events.