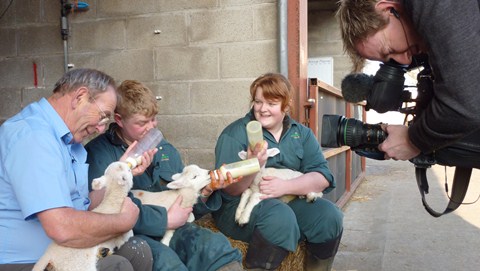 TV personality Fred Talbot saw a lamb being born for the first time when he visited Reaseheath College in Nantwich.
The popular Granada Reports presenter and weather forecaster watched 18-year-old Colin Potts, a Level 2 Diploma in Agriculture student, deliver the lamb.
He also helped students Fred Hampton, 17, and Alice Morley, 18, to bottle feed some of the new arrivals and chatted to sheep unit manager Matthew Bagley.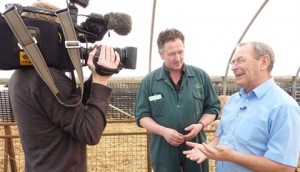 His visit came as the college opened its lambing sheds and zoo to the public for a second consecutive weekend.
The event is one of the most popular in the college's calendar and regularly attracts thousands of visitors.
Fred, who first visited the college 15 years ago, said: "This has been a real eye opener for me and a real treat.
"I've never seen a lamb being born before, although I've seen it on television. It was a magical experience and quite moving.
"I was so impressed by the confidence of the students and by the level of responsibility they were taking to make sure the birth went smoothly."
(Pics: Fred Talbot chats to Matthew Bagley, and bottle feeds lambs with students Fred Hampton and Alice Morley)