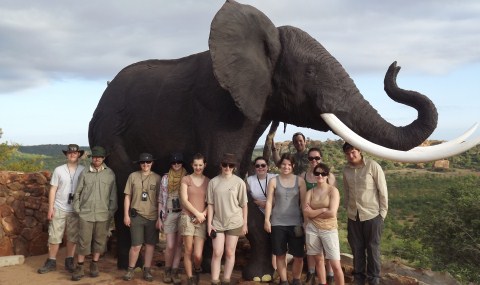 Reaseheath College  students were the first group to venture into unchartered territory at a developing wildlife reserve in South Africa.
The animal management students, studying wildlife conservation, zoo management or animal behaviour and welfare at the Nantwich college, visited Limpopo.
The group of 11, with two staff, were based in a 50,000 acre former hunting lodge which is being developed as part of a Trans Frontier Park.
The plan will develop a linear reserve bordering the Limpopo River in South Africa, Botswana and Zimbabwe, allowing animals to move freely between the three countries.
Reaseheath's students were privileged to make the first ever survey of the area's wildlife and recorded healthy populations of elephant, giraffe, wildebeest, impala, warthog and zebra.
Exciting sightings included leopard, lion, brown hyena, a rare white impala and bush pigs. The students also removed fencing to allow the animals freedom to roam.
The two week tour included bush walks with local trackers, setting camera traps, a lecture on game capture and a visit to a cheetah conservation centre.
The group also met a dog breeder who raises Anatolian shepherd dogs to protect the flocks of local communities from predators.
Group leader Emma Caskie said: "This was a brilliant experience because we were the first group ever to stay in the reserve. We felt we were making a real contribution to wildlife conservation."
(PIC: Reaseheath students and staff gather under a giant elephant sculpture at the Mapungubwe game reserve)