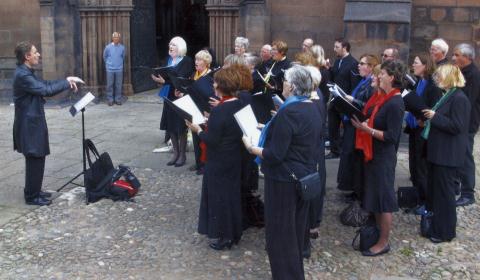 Grove Singers will be in Nantwich next month singing for charity.
They will be entertaining crowds at The Crown Hotel, in the town square, in aid of the IRIS Vision Resource Centre.
The group's repertoire is far ranging with songs old and new from the Beach Boys to Mozart.
Jon Henderson, their musical director well known in the North West, will be putting on an extra performance with Madeline Shackleton, a talented musician who can play a wide range of instruments.
IRIS Centre chairman Bruce Lucas said: "Blindness is a devastating blow whenever it occurs and IRIS exists to support and encourage the independence of visually disabled people in Cheshire East.
"To enable us to continue this essential work we need both financial support and voluntary help."
The concert begins at 7.30pm on Sunday June 17 and tickets are £6 from the IRIS Centre, 14 Chapel Street, Crewe. Call 01270 250316 or members of the Grove Singers.
For more information about the Grove Singers contact Ann Bradshaw on 01270 569205.