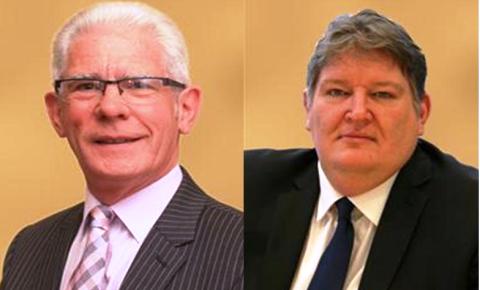 A Nantwich Independent is to challenge for the leadership of Cheshire East Council.
Cllr Arthur Moran (pictured, left) is being put forward by Independents on the council at this week's leadership election.
It was thought leader of the ruling Conservative group Cllr Michael Jones (pictured, right) would be elected to the position uncontested after Cllr Wesley Fitzgerald announced his decision to step down.
But Cllr Moran said there needed to be "a choice" and agreed to stand against him.
He has called for more members to be given "decision-making powers".
"We want to see the introduction of a new system to give all members decision-making powers in the form of advisory groups and such," he said.
He also criticised the current ruling body for voting through decisions such as the £80,000 set aside for an interim chief executive to cover sickness absence of the current one, Erika Wenzel.
"We certainly won't be supporting decisions like that," he added.
Currently, Cheshire East Council is made up of 82 councillors – 52 Conservative, 16 Labour, 10 Independents and 4 Liberal Democrats.
Cllr Moran, who has been on Nantwich Town Council for 26 years, was also a county councillor for 12 years.
He retired three years ago after working in the private sector for 40 years.
The election will take place this Wednesday May 16 at 2.30pm.