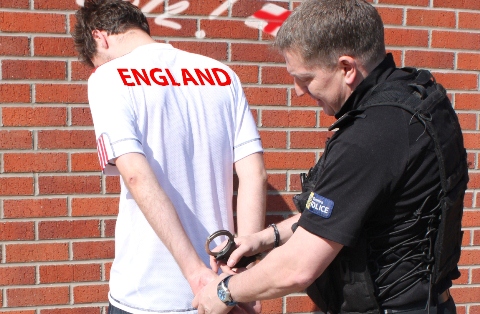 Football fans planning to watch England in Nantwich pubs and clubs have been warned by Cheshire Police over their drinking antics.
Officers have vowed to crackdown on any disorder in or around pubs and other venues as Euro 2012 prepares to kick off this Friday June 8.
The town is expected to be particularly busy when England play on June 11 against France, June 15 versus Sweden, and June 19 against hossts Ukraine.
Police say action taken against people who cause trouble is likely to include applications for Football Banning Orders. Nineteen people in Cheshire are currently subject to football bans.
As well as being barred from English grounds they had to surrender their passports at the end of May. They will not get them back until the end of the tournament on July 1.
Cheshire's Assistant Chief Constable Janette McCormick said: "The bans are an important part of the strategy to deal with football violence. They can be imposed for any football-related disorder even if it is not at a football ground.
"If the anti social behaviour is in a bar or on the street, we will apply for a ban if we think it is appropriate.
"We want fans to enjoy games without having to worry about possible violence or abuse from a small minority.
"It only takes one or two people to drink too much and ruin it for everyone else. We are not prepared to tolerate this and officers will respond quickly and firmly when any trouble is reported.
"England matches will obviously attract major attention and extra officers will be on duty at those times.
"We will use all the powers at our disposal to deal with any anti social behaviour, including fixed penalty fines and arrest where necessary."
Cheshire Police's "Good, Bad and Ugly" campaign to highlight the consequences of drinking too much is running through Euro 2012.