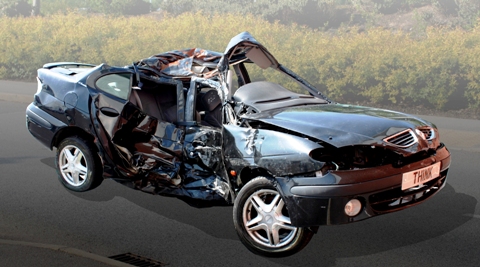 A smashed car in which a young man died will feature at the Cheshire Police exhibit at the Cheshire Show.
The vehicle was being driven in the county when it left the road and hit a tree, killing the driver.
He died just two days before his 21st birthday.
His parents have provided the vehicle for police to use in a hard-hitting message.
Cheshire Assistant Chief Constable Ruth Purdie said: "We are inviting people to talk to officers about the importance of driving carefully and responsibly and the possible consequences of even a momentary lapse of concentration or a small misjudgement.
"In particular we hope young people and their parents will talk to us.
"We don′t want to scare anyone away from driving but we believe the sight of the car and learning what happened to that young man will underline the message in a way that nothing else could.
"We believe it will be very effective. It will play a part in saving some other young lives."
Constable Dave Murray, Cheshire Police Road Safety Officer, said: "Road death is the biggest killer of people aged between 16 and 25 in Britain.
"Young drivers who have passed the test in the previous two years are far more likely to be involved in a collision than other people.
"It is largely down to inexperience and sometimes to not taking safe driving quite as seriously as necessary."
Other features at the show include work of Watch organisations – Home Watch, Pub Watch, Rural Watch and various business watch groups.
Staff and members of Cheshire Police Authority will be at the show to ask people for their views on policing. They will also provide information about Police and Crime Commissioners.
The Cheshire Show takes place at the Tabley showground on June 19 and 20.