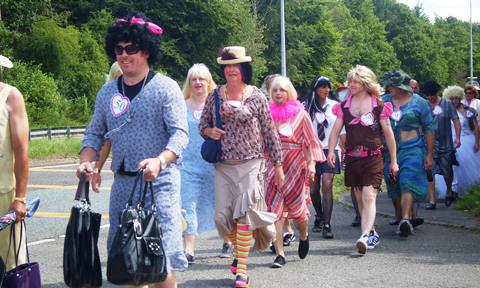 Nantwich men are being urged to ditch the trousers and dress up in drag – to help Cheshire's St Luke's Hospice.
The charity's annual Dame for a Laugh event, Cheshire's only men-only fancy dress drag walk, is taking place on September 22.
Now in its third year, the event is a 5km fundraising walk which begins from the Salt Cellar pub in Middlewich and is open to men only.
There are still places and participants are urged to register with St Luke's if they want to snap up one of the places.
Teams walking include Sainsbury's Northwich, Cheshire East Council and Middlewich Rotary Club plus lots of individuals and friends.
Participants can don a full pantomime dame outfit or simply dress up as a school girl or even squeeze into their partner's dress – wigs and lipstick are optional!
Participating Dames are asked to pay £10 to register which includes refreshments on the day.
St Luke's head of event management Jane Thompson said: "This event is a little bit different. We realise it takes 'real men' with big hearts to dress up in this way!"
To find out more or to see an image of last year's walkers in full visitwww.dameforalaugh.co.uk
You can also download a registration form on the site.
For more details contact Rachael Knight at St Luke's Hospice on 01606 555 687 or email [email protected]