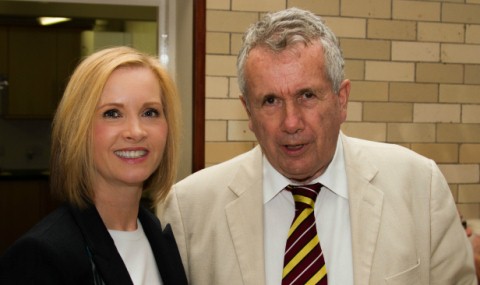 An Independent candidate for the new Cheshire Police and Crime Commissioner role, has the backing of ex MP Martin Bell.
Sarah Flannery launched her campaign alongside former Tatton MP Bell this month.
Mr Bell has known the 53-year-old since his own General Election campaign in the Cheshire constituency in 1997.
And he described the mother-of-two as "a bundle of Independent-minded energy".
"I quickly became aware of certain people who were doing good in their community," he said.
"And no one did more good than Sarah. You couldn't possibly have a better candidate for Cheshire Police and Crime Commissioner."
Mrs Flannery, of Pickmere, and a director of Northwich-based Dimension Creative Limited, has unveiled her Seven Steps to policing in Cheshire.
She said: "The job of Police and Crime Commissioner is one that is best served by someone completely free of party politics.
"Do we want parties extending their arthritic grip on areas where they've no right to operate?
"As an Independent I come with a cast iron guarantee that I'll put people and not a party, at the heart of policing.
"The introduction of Police and Crime Commissioners could be the start in rebuilding confidence in our public institutions.
"I will kick-start that process in Cheshire by being visible and approachable as PCC for Cheshire."
Mrs Flannery's Seven Steps include a more visible force, focus on re-offenders and anti-social behaviour, value for money in use of resources, and improved accountability.
She also wants to represent the views of the young people in Cheshire with a possible Youth PCC, backed by a Youth Police and Crime Panel.