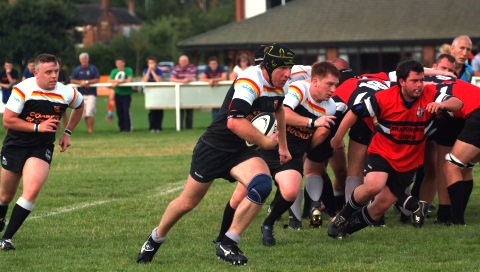 The captain of Crewe & Nantwich RUFC 1sts believes a new style of "dynamic play" will help the side compete at the higher level.
Niall MacGregor said the the team is finding the transition to South Lancs/Cheshire Division 1 tough.
But the Vagrants-based club have already shown they are capable of doing well against strong opposition.
Crewe & Nantwich travel to face bottom of the table Orrell this weekend after suffering a narrow 13-10 defeat at Winnington Park.
MacGregor said: "This is certainly a tough league with competitive games every weekend.
"In previous seasons we have had competitive games but these were followed by an easier game the following weekend, not in this league.
"Other than one game against Broughton Park, who were exceptional playing the style of rugby we are aiming for, we have had some close games winning two and narrowly losing the others.
"Broughton Park have set our benchmark. I believe we have shown the level of rugby we can play and as we gain more experience in this league we will increase our consistency and professional approach to games."
MacGregor also paid tribute to the new coaching team of Andy Brown and Andy Dudley who only arrived at the club in the summer.
"They are really transforming the way we play with a game plan that lets us play dynamic rugby, as we have fantastic players, as well as providing a structure to our game that as a squad encourages playing as a team," he added.
"What is clear is this is the league for us. It's challenging us in a way the other league couldn't and we are really starting to play rugby.
"It's just a moment of time now of our game to come together and our opposition to be punished…watch out Orrell this weekend!"