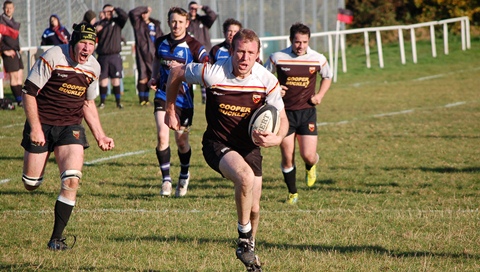 By Peter Curtis-Brown
Crewe & Nantwich triumphed in a "must win" clash with fellow promoted team Ruskin Park.
The Vagrants side clinched a fine 39-19 victory to move into 7th place in South Lancs/Cheshire Division 1.
Crewe & Nantwich made the prefect start with some strong forward work.
And when Tim Cowap was brought down just short of the line, quick-thinking Eli Woodward picked the ball up from the base of the ruck and dived over the line on five minutes for a 5–0 lead.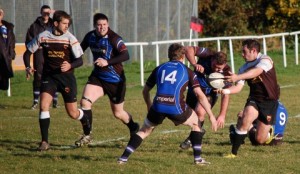 Ruskin struck back quickly, though, with two tries to take a 12-5 advantage  before Aaron Barker released Mike Greatbanks who drew his man and released Toby Ward who ran under the posts to tie the score after Little's conversion.
The hosts then took control after the break, when Ward scored his second try in the corner for 17–12, followed by Joe Gammage's fine effort from midfield for a 22–12 lead.
Ward completed his hat-trick with another blistering break after and the conversion made it 29–12. Ruskin then had a spell in the Crewe 22 and after some sustained pressure managed a score for 29–19.
Little slotted a penalty on the 70 minute mark to stretch the lead before man of the match Killian Roche charged through a battered Ruskin deffence to earn a well deserved try and a bonus point.
Chairman Jon Cockburn said: "This was a must win fixture for the guys to show how much they have come on.
"Ruskin are a good side with a lot of strength but we need to keep moving forward and raise our game to compete in this league.
"As the league table is now starting to take shape we need to ensure we are in the right half. With sides ahead of us playing each other next week we have a chance to make ground and elevate ourselves even further."
Crewe & Nantwich travel to Tyldseley on Saturday.