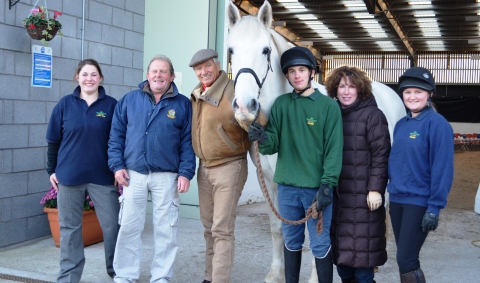 Famous horse behavourist Monty Roberts packed out Reaseheath College in Nantwich when he gave a masterclass on equine training.
More than 1,000 spectators watched as "the man who listens to horses" worked his magic on five untrained or problematic horses.
The masterclass at the equine centre was so popular, many visitors stayed until 11pm to talk to him.
Monty, accompanied by his British protégé Kelly Marks, said the event was in the top 10% of all the demonstrations he had done.
He also paid tribute to Reaseheath's facilities, which included a park and ride between main campus and the equestrian centre.
Monty said: "I have thoroughly enjoyed coming to Nantwich and meeting so many knowledgeable and thoughtful people.
"The majority in my audiences want to learn how to meet the needs of their horse through better communication. What I hope they take away is an understanding of the fundamental aspects of horse behaviour."
Monty lives in America but regularly visits the UK. The Nantwich event was one of 10 on a UK tour.
He also helps train The Queen's racehorses and riding horses and even her corgis!