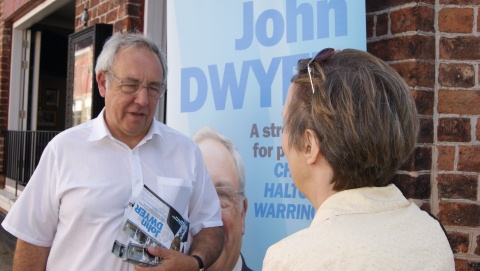 Nantwich-based John Dwyer has become Cheshire's new Police and Crime Commissioner.
Conservative candidate Mr Dwyer, a former Crewe & Nantwich Borough councillor, won the election after today's count.
He polled 48,591 votes, with Labour candidate John Stockton in second place with 37,350.
The election went to the second preference vote stage as no one had overall majority after the first count at Warrington this afternoon.
Third was Independent candidate Sarah Flannery, who posted 18,596.
Fourth was Liberal Democrat Ainsley Arnold with 10, 653, and UKIP candidate Louis Bours was fifth with 8,557.
Turnout for Cheshire was just 14%, with Cheshire East registering slightly higher at 16.6%.
Mr Dwyer posted almost half of his overall votes in Cheshire East, with Sarah Flannery also performing well in the borough, almost matching Mr Stockton.
However, the Labour candidate made up ground in Labour strongholds of Halton and Warrington.
Mr Dwyer, a former Assistant Chief Constable, promised to crackdown on anti-social yobs and double the number of Special Constables in his manifesto.
He also pledged to fight the county's worst drugs offenders.