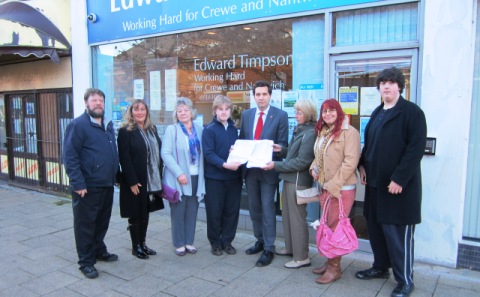 A 4,000-name petition calling for the Green Gap around Nantwich and Crewe to be protected, has been backed by local MP Edward Timpson.
Campaigners launched the "Save the Green Gap" effort in Willaston two years ago to safeguard the area from excessive urban development.
Mr Timpson, MP for Crewe and Nantwich, has thrown his support behind the campaign and presented a petition with over 4,000 signatures to Cheshire East Council and Secretary of State for Communities and Local Government.
The petition is made up of over 250 children's signatures and 4,000 signatures from Crewe and Nantwich residents, collected by Cllr Derek Bebbington and his team.
Mr Timpson said: "I stand behind the residents of Crewe and Nantwich, who are understandably worried about the plans that Cheshire East Council have for our green fields.
"The council needs to understand that people care deeply about their local environment and want it protected."
The Green Gap around villages such as Shavington, Willaston, Wybunbury, Weston, Haslington, Leighton and Maw Green was originally protected from development by the former Crewe and Nantwich Borough Council in 1993.
But Cheshire East Council has been reviewing its plans for the development of the borough, and current draft plans do not mention the Green Gap.
In November 2010, a campaign was started by the Willaston Green Gap Action Team.
They handed in a petition of 1,221 signatures to Cheshire East Council in December 2010 asking for the retention of the Green Gap to be included in the Cheshire East Core Strategy development document.
(Pictured: Mr Timpson receives petition in support of the Green Gap from Cllr Bebbington and team)