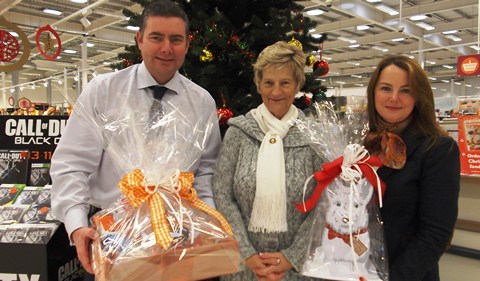 A charity Christmas draw has been given a boost by bosses at Sainsbury's in Nantwich.
Crewe & Nantwich Cancer Research UK has been handed a Christmas hamper to raffle off at the charity's annual festive draw.
Lesley Roberts, volunteer for the charity branch, was presented with the hamper by Nantwich Sainsbury's manager Ian Sutton.
The charity's Christmas draw is to take place on December 4 at the Nag's Head in Haughton.
The store used the artistic skills of local resident and customer, Hannah Batley, who decorates hampers and prizes for the store's charitable donations.
Manager Ian Sutton said: "We try our best to be supportive of charity events organised by local residents and we are always amazed at their commitment to their charities.
"Lesley and Hannah are two such ladies. Lesley is a tireless fundraiser for Cancer Research UK, whereas Hannah uses her extraordinary artistic skills to make prizes more attractive."