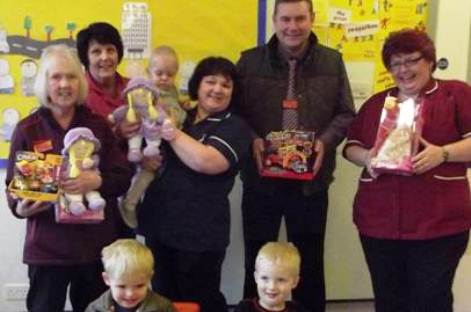 Generous customers at a Nantwich supermarket brought extra Christmas cheer to young patients in hospital.
Punters at Sainsbury's on Middlewich Road donated toys and gifts to give to poorly children staying on Leighton Hospital's child and adolescent unit on Christmas Day.
Ian Sutton, store manager, said: "The response we've had from our customers has been fantastic, and it's for such a great cause.
"Hopefully the toys will bring a little bit of extra happiness to the children over Christmas, and we are already planning to do the same next year."
Around 60 presents were donated to the unit.
Sue Palin, the unit's housekeeper, said: "I'd like to thank Sainsbury's and its customers for this donation.
"Each child will be given a toy on Christmas morning, while the remaining gifts will be put in our play room for use by everyone.
"This simple gesture really does make a massive difference to those children who are in hospital during the festive period."