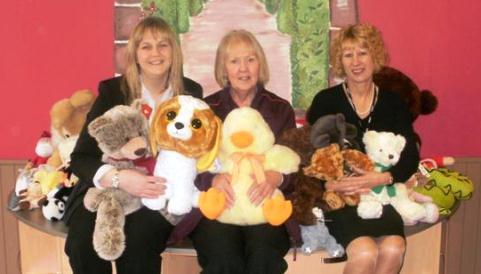 Big-hearted residents and shoppers donated more than 150 cuddly toys to the Wingate Centre in Wrenbury, Nantwich.
The toys were donated by Richmond Village residents on St Joseph's Way and customers at Sainsbury's on Middlewich Road.
The Wingate Centre offers respite breaks and holidays for disabled children and teenagers. Staff present a cuddly toy to every child as soon as they arrive.
Jill Butler, spokesperson for the Wingate, said: "The children who come here can be quite nervous and a cuddly toy is very comforting.
"They then take the cuddly toys home with them as a reminder of their stay."
It is the second year toys have been donated to the centre in this way.
In Easter, Richmond Nantwich and Sainsbury's will be joining The Cat radio to launch the third Easter Egg Appeal for local underprivileged and poorly children.
(Pic: Alison Harding, Richmond Village advisor, Olwyn Payton from Sainsbury's, and Jill Butler from the Wingate Centre)