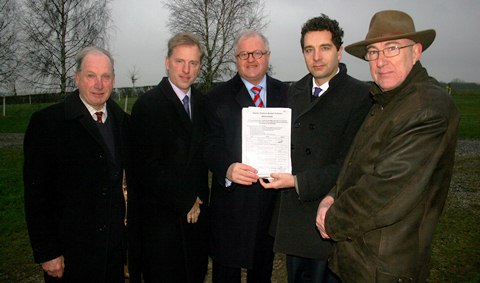 A petition signed by more than 1,500 people against the "Nantwich South" plan, is being handed in to Cheshire East Council and the Government.
MP Edward Timpson joined with councillors and residents in Stapeley to form the petition.
It speaks out against Muller Property Group's planning application to build an access road from traffic lights on Peter Destapleigh Way opposite Cronkinson Farm pub.
This road is designed to service phase 1 of a proposed "Nantwich South" development which could see more than 1,000 houses, village centre, business units, and even a new school built.
The proposed route for the road encompasses an area that should now be a Landscaped Nature Conservation Area according to a Section 106 agreement made between Jennings Holdings Limited, the former Cheshire County Council and other parties in March 2000.
Mr Timpson and Nantwich South/Stapeley councillors Andrew Martin and Peter Groves, who launched the petition in July last year, are submitting copies to Cheshire East Council and Department for Communities and Local Government.
Protect Stapeley campaigner Pat Cullen said: "Our MP and local councillors are offering us their support.
"We must take it and work alongside them to repel Muller's advances on Stapeley."
Mr Timpson has written a letter of support for the petition to Cheshire East Council Leader Michael Jones, and Secretary of State Eric Pickles.
It states: "This petition of the residents of Crewe and Nantwich, registers their strong objection to a large-scale housing development in the Stapeley area.
"The petition, which has been subscribed by 1,529 people as a sign of the strength of local feeling, on a matter of great importance and consequence to my constituency.
"I hope and trust the council will take full account of the clear and unambiguous views of the signatories to this petition, as it opens consultation on January 30 on the Cheshire East Draft Local Plan."
Residents hope their opinions and those of elected representatives will be taken into account when the council's strategic planning committee consider Muller's proposals for Nantwich South on January 30.
Mr Timpson's representative hopes to speak at the meeting.