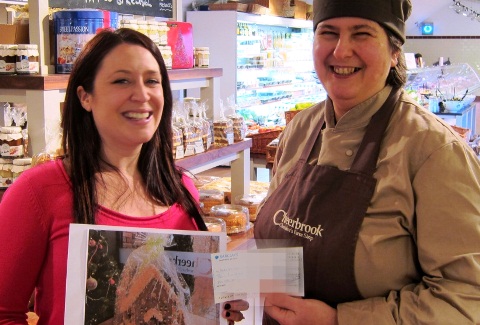 A Nantwich farm shop is supporting a national charity by baking a mouth-watering Gingerbread House.
Talented cooks at Cheerbrook, on Newcastle Road, wanted to help raise funds for the Alzheimer's Society.
So baker Debbie Dodd and kitchen manager Tracey Robinson-Cartlidge hand-crafted a stunning house which is proving a big hit with customers.
Debbie and Tracey spent a whole day creating the spicy, sweet covered wonder.
"Alzheimer's is a condition which impacts on the lives of many families and we wanted to help," said Tracey.
Customers were invited to make a donation and enter a draw to win the sweet treat, and this helped to raise an amazing £400.
Kate Thorpe, community fundraiser for the Alzheimer's Society, was presented with the cheque.
"What a fantastic idea and a wonderful response from Cheerbrook customers," said Kate.
The Alzheimer's Society, nominated as Cheerbrook's Charity of the Year, provides day care and home care for people with dementia, as well as support and befriending services to help partners and families cope with caring.
Cheerbrook will be raising money for the Alzheimer's Society throughout the year with collection tins in the shop and a variety other fundraising activities.
Popular ensemble Jubilee Brass, who played carols for customers on Christmas Eve, will return later in the year to help with fundraising activities.
The winner of the Gingerbread House draw was a Mrs Latham, of Nantwich.
(Pictured: Kate Thorpe of Alzheimer's Society & Tracey Robinson-Cartlidge of Cheerbrook Quality Farm Food Nantwich)