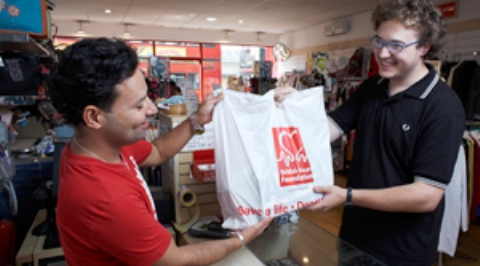 A charity shop manager in Nantwich has made a desperate appeal for more help amid a sharp drop in donations.
Lynette Kirk, who runs the local British Heart Foundation shop on High Street, believes a rise in car boot sales and sites like eBay is having a serious impact.
"I am always extremely grateful to the community for supporting us by purchasing items in the shop to help us raise vital funds to save lives locally," she said.
"Unfortunately, the number of items we are having donated to us is declining, possibly due to the current increase in items sold at car boots and via eBay.
"This has had an impact on our ability to raise funds and we'd like to appeal to the public for help
"With the recent snow our British Heart Foundation shop has been severely affected by the weather.
"Stock is the lifeblood of our shops, without donations of clothing, shoes, DVDs, CDs, bric-a-brac, we cannot raise income to fight against heart disease. But our stock levels have dropped even lower."
Now staff are appealing to Nantwich residents to have a clear out and donate unwanted items to the shop in High Street.
People unable to bring items in can have them arranged to be collected free. To book a free collection, call 01270 610534.
Everyone can help by donating any unwanted clothing, shoes, accessories, CDs, DVDs, books, toys and bric-a-brac.
The shop is open 9.30am to pm Monday to Saturday to organise collections.
"Local support is so important to us," added Lynette.
"And I'd like to take this opportunity to thank everyone for their ongoing support throughout the year. Your stock donations really do make a difference."
(pic courtesy of the British Heart Foundation)