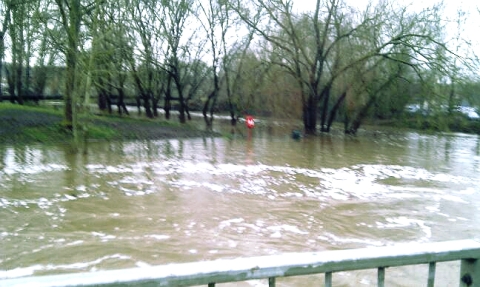 The Environment Agency has today (January 27) issued two Flood Warnings for the River Weaver in Nantwich.
Heavy overnight rain and snow and ice melt has caused the Weaver to rise to dangerous levels.
Separate Flood Warnings are now in place for the river at Shrewbridge Lodge and at Lakeside View.
There is also a general Flood Alert for the Weaver's wider catchment area in Nantwich, Crewe, Winsford, Frodsham and Northwich, along with connecting rivers Ducklow and Wheelock.
It's the fourth time the Weaver has caused localised flooding in Nantwich, leaving riverside pathways and bridges impassable and putting some low level properties at risk.
The first warning was issued at around 8.45am today, the second one for Lakeside View being reported at about 11am.
Environment Agency bosses hope the Weaver will reach its peak in these areas by late afternoon.
"Rivers are responding to rainfall and snowmelt from overnight," said a spokesman.
"We will continue to monitor the situation and will provide further updates when necessary."
Drivers are also advised that snowmelt and rainfall has caused some surface flooding on roads and lanes in South Cheshire.