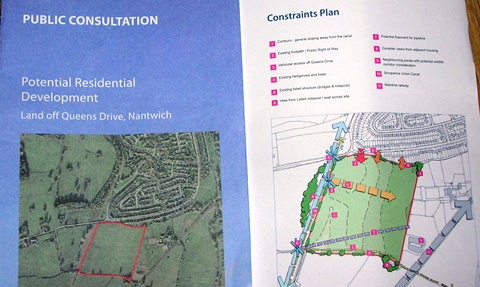 Council planners look set to give a 240-home development on land in Nantwich the green light, despite objections.
Gladman Developments want to build on land off Queen's Drive, along with a children's play area and convenience store.
The proposals are back on the table after previous attempts to gain permission for 270 homes on the site were thrown out last year.
Many residents in that area of Nantwich are against the development, claiming it would make the traffic situation in the area "ridiculous".
Similar objections have been lodged by Nantwich Town Council and Acton, Edleston and Henhull parish council.
Developers have proposed a new signal controlled junction where Queen's Drive meets Welsh Row.
They also believe linking Taylor Drive to Edmund Wright Way could pave the way for Welsh Row to be closed at the junction with Waterlode, or to be turned into a one-way street.
The new homes would also be close to the Shropshire Union Canal, and the Canal and River Trust have asked to be involved in any developments.
And Network Rail has raised objections over fears that increased traffic in the town will have an impact on the three level crossings it operates in Nantwich.
In its objection, Network Rail states: "The developers of these proposals should provide funding to mitigate the imported risk from the increased number of residents in the area.
"This may include  closure of the level crossings and replacement with footbridges or road bridges,  subject to Network Rail approval.
"The developer at Queens Drive should eliminate all reference to the level crossing as  a proposed walking route and should ensure that no access can be gained from the site."
Cheshire East planners have recommended that the plans are approved with a number of conditions attached.
A final decision is set to be made at the council's Strategic Planning Board this Friday, February 8.