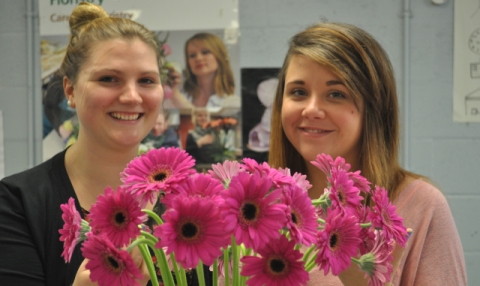 Two Nantwich floristry students have landed dream work placements as floral designers in Bermuda.
Emma Ollier and Jen Latham will leave for the sunshine island in April after completing their Floristry diplomas at Reaseheath College.
They were offered jobs by former Reaseheath floristry student Lisa Holroyd, who has a business there operating three shops.
As well as working in the shops, the florists will spend time in hotels creating floral designs for events such as weddings and conferences.
Jen, 25, who lives in Wrexham, worked full time in the 'Lily the Pink' florist shop in Ellesmere for two years before deciding to gain recognised qualifications.
She became a Reaseheath student in September and has continued to work part-time at the shop.
She said: "I came to Reaseheath because I wanted to learn about the wider aspects of floristy, such as contemporary floristry styles and techniques.
"Thanks to Reaseheath's contacts within the industry, I now have the chance to travel and work in another part of the world. It's really exciting!"
Emma, 22, gained her basic knowledge as a Level 2 Diploma in Floristry student at Reaseheath, progressing to Level 3 this year.
She has continued to work part-time as a florist for Mirage Events in her home town of Winsford.
She added: "This is an amazing opportunity to experience a new lifestyle and culture. I'm so lucky – some people study for years and don't get such a great opportunity."
(Pictured: Bermuda bound – florists Jen Latham and Emma Ollier)