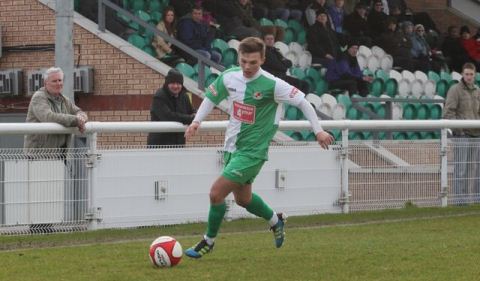 By Robert Summerscales
Nantwich Town leading goalscorer Sean Cooke is set to leave and join AFC Fylde, it emerged today.
Cooke has been one of the stars for the Dabbers this season, but looks set to be heading out of the Weaver Stadium.
And he admitted it was a difficult decision to leave a club which he admits helped to relaunch his career.
Cooke said: "I am very grateful for the opportunity the club has given me following my release from Crewe Alex.
"I would like to thank everyone involved at the club – the fantastic supporters and in particular the manager Jimmy Quinn, who has helped me relaunch my career and develop my game immensely at this level.
"I still have ambitions to continue my development and to play league football. With 10 weeks of the season left, I feel there is an opportunity with AFC Fylde to try to reach the next level.
"I appreciate the timing isn't the best as Nantwich are in a period of transition.
"However I am confident from what I have seen already that some of the new young players will soon start to demonstrate their potential.
"That's why this decision hasn't been easy – because I truly believe, given time, there are the makings of a very good team here."
Nantwich boss Quinn said: "I've known Sean and his family personally since he was a young boy and he has always had the potential to be a very good player.
"His improvement and goals this season have been a real highlight and although it's disappointing to lose a player of his calibre, we have to acknowledge players with Sean's potential will move on.
"As a club, we will never stand in their way, as long as it's the right move for the player.
"That's why so many young players are trusting their future development in us.
"We are still very much a work in progress, but hopefully our supporters will see there are a number of new young players who have just joined who have a lot of potential.
"We will be working hard with them to realise this for both them personally and for the ultimate good of the club.
"I would like to thank Sean and wish him all the best for his future career."
(pic by Simon J Newbury)