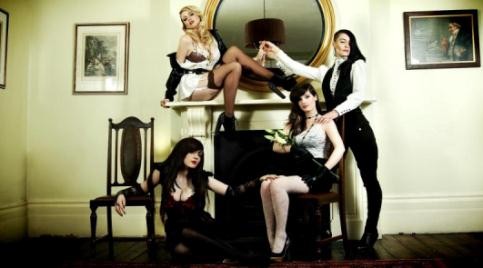 A controversial all-girl rock band with a drummer from Nantwich are to play live this weekend in Crewe.
The four-piece group The Courtesans have divided opinion with their provocative live performances and publicity material.
And the London band, who feature Nantwich girl Victoria Brown on drums, will once again be raising the temperature at The Box in Crewe on Friday (March 1)
As well as Brown, the band includes vocalist Sinead LaBella, Saffire Sanchez on guitar, and bass player Agnes Jones.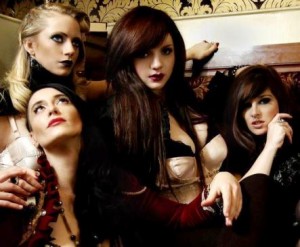 Victoria will be familiar to local audiences as the former drummer with Stoke band Already Gone.
The Courtesans promote themselves using provocatively erotic photoshoots and videos.
Victoria said: "There is always going to be mixed opinions about the photos and the promo that we do.
"Some love it and some are going to have a go – but that's exactly what it's supposed to do, get people talking and we don't really care what gets said.
"We're all really excited about where we can take this band. We're going out on tour over the next couple of months and have some shows in Italy and France.
"It's great for me to be able to do a home town gig at The Box."
The band's output is described as "sultry sounds with a Cobain kick…a recipe for under-the-radar chaos".
The Courtesans' debut album is released in April with the help of PledgeMusic.
Support for the Crewe show comes from home town bands Son Of Shinobi and Hex, along with Rough Twist from Macclesfield.
Tickets are £5 and available from www.theboxcrewe.co.uk